How we work
We create the right conditions to ensure every employee can develop and achieve their full potential: Clear demarcation of responsibilities and decision-making powers, transparent communication, effective meetings and cross-departmental networking enable us to take responsibility and make our own decisions. This is how we grow together - individually and all of us together as an organisation. 
Constantly developing our knowledge base and learning new skills are at the heart of our shared success. We support training and professional development, we encourage the active participation of our employees and we drive forward digital projects and sustainable modernisation. That's why at Maestrani you'll find: 
Encouragement of active participation
A good idea counts more than hierarchy with us. 

Training and professional and development opportunities
Your development, both professionally and personally, will not only benefit you but also us as an organisation. 

Innovation and modernisation
We are driven by the joy of progress. That's why we always go one step further. 
We live our mission statement and are committed to the following principles. Our management system helps us in this and describes our systematic approach to maintaining standards of quality, safety and environmental protection.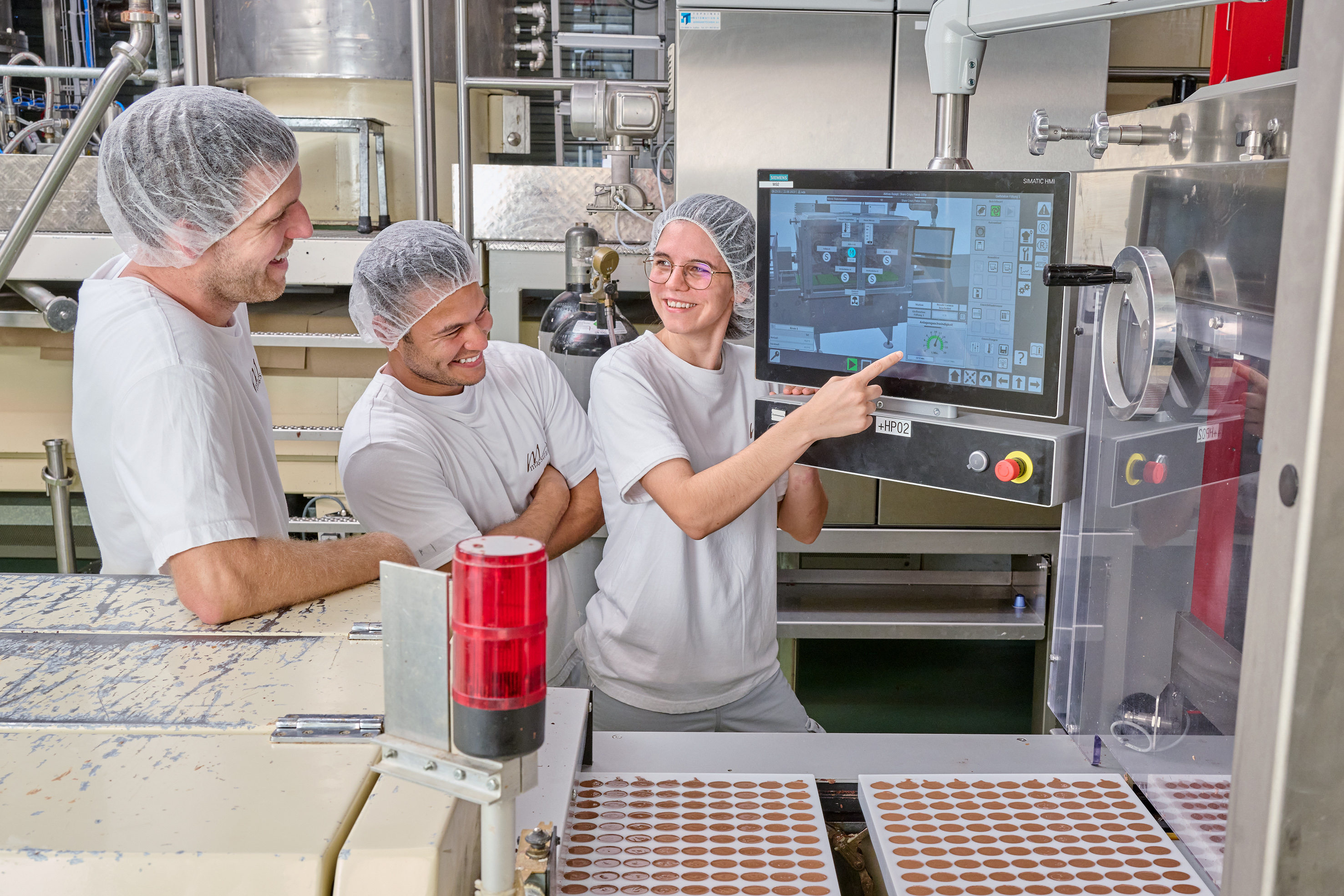 THE CUSTOMER IS AT THE CENTRE OF OUR ACTIVITIES – WITHOUT THE CUSTOMER EVERYTHING WE DO IS FOR NOTHING.
We develop and manufacture products in accordance with the expectations of our customers and consumers.
WE LEAD BY EXAMPLE.
Through their actions our managers provide role models for our staff. Compliance with statutory requirements is a matter of course for us and we cultivate an atmosphere of openness and trust with external stakeholders. We are committed to the avoidance of environmental pollution.
WE LEAD WITH CLEAR AIMS.
Sustainability, earnings and growth, product quality and safety, customer and process orientation with minimum resource consumption and optimal environmental protection are key indicators for our objectives. We communicate our corporate objectives to our employees and explain precisely how each individual can help to achieve them. We are only successful as a team.
WE INVOLVE OUR STAFF.
Managers create reasonable freedom of action. By delegating tasks they encourage personal responsibility and independence.
WE ENSURE OUR COMMUNICATION IS OPEN, HONEST, TIMELY AND BASED ON TRUST.
We pass on information that our staff require immediately and completely.
WE ENCOURAGE OUR STAFF.
Managers know and take into account the strengths, skills and development potential of their staff. We communicate our appreciation through the recognition of performance.
WE ENCOURAGE IDEAS AND CONTINUOUS IMPROVEMENT.
We drive innovations forward with the aim of continuously improving our organisation, products and processes. We ask customers, suppliers and staff to put forward ideas with a view to improving our services.
WE ANALYSE OBJECTIVELY AND IMPLEMENT DECISIONS SYSTEMATICALLY.
We compare our findings regularly against internal objectives and external requirements. The knowledge gained is evaluated and we use it to constantly improve our systems.
WE CULTIVATE A COLLABORATIVE RELATIONSHIP WITH OUR SUPPLIERS.
In order to achieve positive results for both parties, we ask our suppliers to actively support us in achieving our quality, environmental and safety objectives.
WE ACHIEVE OUR GOALS.
A healthy financial situation is one of our top priorities.
ACCIDENT FREE.
No cost or time requirement, no competitive advantage or profit target is worth the risk of loss of life or injury of any sort.